Modern Gothic Poetry Anthology: A Nihilist's Bible
By Stewart Storrar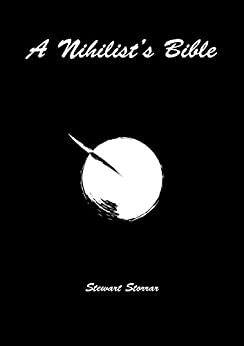 Dynamic, authentic, brilliant, and thought provoking, Nihilist's Bible is the debut dark poetry book from the young Scottish writer, Stewart Storrar. This first piece of full-length work from Stewart delves into the darker recesses of the human condition and explores what it means to be human in the modern world.
From struggling with trauma and his own identity, to dealing with what feels like an alien world, Stewart shares in inner-most thoughts about his life, mental illness, grief, loss, and heart break in his passionate collection of free verse. In his love for poetry he found an outlet of expression that would end up saving his life, even if it took him half a decade to realise it.
Drawing inspiration for his poetry from nihilism, particularly moral and existential nihilism, Stewart blurs the line between different philosophical schools of thought and emotive poetry in what he describes as, "exploring the darker part of his truest self".
So, peel the page back, absorb his words, and allow these poems to help you explore your own human condition in a profound way.
Content warning: this poetry collection touches on some ideas, concepts, and themes that some people may find distressing such as suicide, death, loss, and self-harm. The intention of this work is to highlight such aspects of the human condition and raise awareness around these issues.
Are you a journalist or reviewer? Contact Stewart directly for a press copy.
Stewart's Debut Gothic Poetry Chapbook
Nihilist's Bible is the first piece of work Stewart's made commercially available online, with plans to begin print runs in the near future. Nihilist's Bible is the cumulation of around 6 to 7 years of crafting poems in his free time. He started writing poems as a medium of expression through which he could process the world around him and his emotions in a way that gave him a healthy outlet to deal with his trauma.
The idea to create a poetry book from the collected works came to him amid his last year of University when book publishing became of great interest to him. Work quickly began on the collection and it would prove to be around a year before the first draft of the collection (with art) was ready to be beta read by close friends.
The initial feedback was a mixed bag, with some friends providing critical feedback that could be used to improve the work and other friends not wanting to broach the subjects the book tackles. This mixed bag of reactions provided the scope and clarity for Stewart to forge it into what it is today; a rather dark poetry book that aims to shine a light on the deeper, more taboo nature of being human and dealing with trauma.
Opting For Independent Publishing
After initial beta reader feedback, the book was refined to it's final 'market ready' form in late 2021 with a planned roll-out in 2022. The decision had been made early on to choose independent publishing under the Lore Publication name as opposed to pitching the book to other existing publishers. There were a few reasons for this.
Primarily, having worked in online Journalism briefly, Stewart knew about the low market yield the book was likely to exhibit and that it would be extremely difficult to secure a publishing contract with the contents of the book as is. While conversations with editors and book publishers occurred behind the scenes, many wanted to exhibit too much editorial control over the final text in order to decrease the book's poor market yield potential. While Stewart was certainly open to editorial changes, an agreement was never reached that made all parties happy.
The issues Stewart initially ran into when pitched prompted him to opt for independent publishing as a method through which he could publish the book the way it was intended to be consumed.
Initial Reception of The Nihilist's Bible Poetry Anthology
After the poetry anthology was published publicly, there seemed to be a mixed sentiment around the book and it's contents. The pool of purchases was low, which was to be expected, and so the gift copies that were distributed to people in Stewart's circles provided the bulk of the initial round of feedback. Some people loved the book and enjoying delving into the perspectives it offered on the various issues the content addresses.
The main criticisms came from those in religious communities, particularly around content that can be interpreted as anti-religious or as having an anti-religious sentiment. Of course the name of the book in and of itself didn't help thwart such sentiments.
Others did criticise it for its rather simplistic poetic structures for some of the poems included in the collection. One main criticism was the reliance on free verse to convey more complex perspectives, as opposed to more traditional poetic structures and forms.
---
About The Author
Stewart Storrar is a young Scottish writer that writes short stories, flash fiction, poetry and is currently working on his debut novel among other creative writing projects. He lives in Glasgow, Scotland and studied a BA (Hons) in Media and Communications at the Glasgow Caledonian University. At present he works as a SEO Manager with Click2Convert Limited full time and part time as a freelancer writer.
He started Lore Publication as a way to allow writers to tell their stories their way and for readers to find insightful, thought provoking fiction. Learn more now! Got a submission, we have details of what we accept on our submissions page.